delivered mounted on a double wall rim with anti-rotation washers
Optional freewheel
Iwire length/thickness: 2/1*1.5Sqmm
stator/magnet height: 27mmwaterproof, net weight:4.8kg - 6.2kgfollowing winding.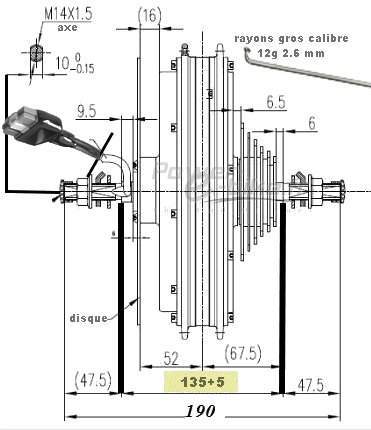 The more torque ( Nm ) the engine has, the higher you will reach
at the expense of speed (RPM) !
Examples with the different motors in the range equipped
a 48v battery at a rotation speed per minute of 165 Rpm (about 22km/h)
6 X 10 = RH205S-180/280 rpm battery 48v => 52Nm-165rpm
max speed 35 Km/h*
Lots of torque, ideal for mountain biking
7 X 09 = RH205S-230/320 rpm battery 48v =
> 46Nm-165rpm
max speed 41 Km/h*
Still torque, with a little more speed.
8 X 08 = RH205S-280/380 rpm battery 48v => 41Nm-165rpm
max speed 48 Km/h*
Balance between torque and speed.
9 X 07 = RH205S-330/420 rpm battery 48v => 36Nm-165rpm
max speed 54 Km/h*
Very Fast, with just enough torque to take it up some hills.
10X 6 = RH205S-350/480 rpm 48v battery => 30Nm-165rpm
max speed 58 Km/h*
Ultra Fast, perfect for long distances, to be avoided in the mountains.
* if 60v battery, plus 20 to 30%
Rpm
=
Rotation Per Minute
*Vitesse.max recorded with nominal 48v battery of lifepo4 A123 20ah technology displaying a voltage at the end of charge of 58.4Vdc, 28a controller, 28-inch wheel, 74kg cyclist riding an electric bike equipped with an rh205 conversion kit from a total weight of 25kg.