Reservation deposit engine kit rh205
Electric Motorization Kit
Sold without battery
Attention limited series of 15 copies!
---
---
Cet Achat groupé est terminé
Vous pouvez vous inscrire
en cliquant sur
pour ne pas rater la prochaine promotion
---
Purchase Protection via PayPal
Free shipping from 50€
100% French support service
Product Information
Electric Motorization Kit
Sold without battery
Attention limited series of 15 copies!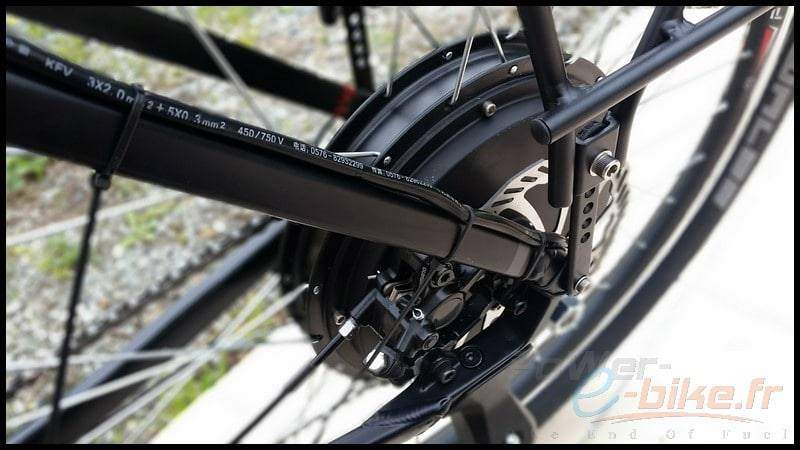 click here and read the Customer article, assembly of the power-e-bike kit
Special Rate group purchase -25% discount
Packages will be delivered from the factory, and shipped from our depot based in the south of the France, no additional tax required.
Fast delivery option possible at the time of finalization of the purchase
DISCOUNTED RATE DELIVERY TIME 4 weeks
-25.00%
KIT 14TLCD 36v,48v,60v

800

watts max

344.00
258.00 €
KIT 22TLCD 36v,48v,60v

1350 watts max

393,00 €

€294.75

KIT 30TLCD 36v,48v,60v

1900 watts max

423.00
317.25 €
Free shipping (excluding fast delivery option) for shipments in metropolitan France
Sales price not combinable with other current promotions.
Composition of your KIT:
The motors are all compatible up to 2000 watts, the choice of your accessory pack will determine the final power of your kit
| | |
| --- | --- |
| | Max speed = empty speed (rear wheel up), if 60V battery add 20 to 30% |

1 Accessory Pack

14 TLCD, power 14 amps, from 450 to 800 watts
22 TLCD, power 22 amps, from 800 to 1350 watts
30 TLCD, power 30 amps, from 1250 to 1850 watts
compatible batteries from 36 volts to 60 volts *
* swithout any DIY, real permissible voltage from 32 volts to 75.6 volts
Each accessory pack will include:
- 1 on-board computer:

Functions: - power ON/OFF - Speedometer, - total and partial distance travelled, - battery charge level, - assistance power level, - 5 assistance levels, - cruise control (cruse control), - configurable to work with your battery of your choice: 36V, 48V and 60V
Principle of Group Purchasing:
During a chosen period, only 15 people will have the opportunity to order a "rh205c motor kit nine continent without battery" to benefit from the offer.
In order to reserve your order a deposit will be required.
At the end of the period:
- the 15 orders are reached, the group purchase will be validated.
Each customer will receive on the same date an email from Power Ebike indicating the procedure to follow.
- the 15 orders are not reached, the group purchase will be canceled.
All customers who have paid a deposit will be refunded within one week.
ATTENTION: In order not to delay the group purchase, each customer is asked to check his purchasing capacity before booking.
Each customer will have 48 hours to pay for their purchase from the main power-e-bike site if this is not done, the deposit paid cannot be refunded.
Upon validation of the grouped orders, the packages will be shipped to the customer according to the selected deadline:
Discount -25% = 4 weeks
*Fast delivery option possible
All buyers will be regularly informed by the Power Ebike team about the progress of their order.
Warning: This kit greatly exceeds the authorized power of 250W,
It is therefore to be used only on private roads.
Product Review
Reviews (0)

All reviews (0)
Has image/video (0)
Excellent (0)
Good (0)
Medium (0)
Poor (0)
Terrible (0)

Latest
Oldest
High rating
Low rating
Helpful