Hello,
Following health problems, I got back on my bike.
I started with a classic bike but quickly realized that I could no longer force on the pedals.
So I bought a used electric bike (to see what it looks like).
I found an ISD 601 (250W, 36V 12Ah).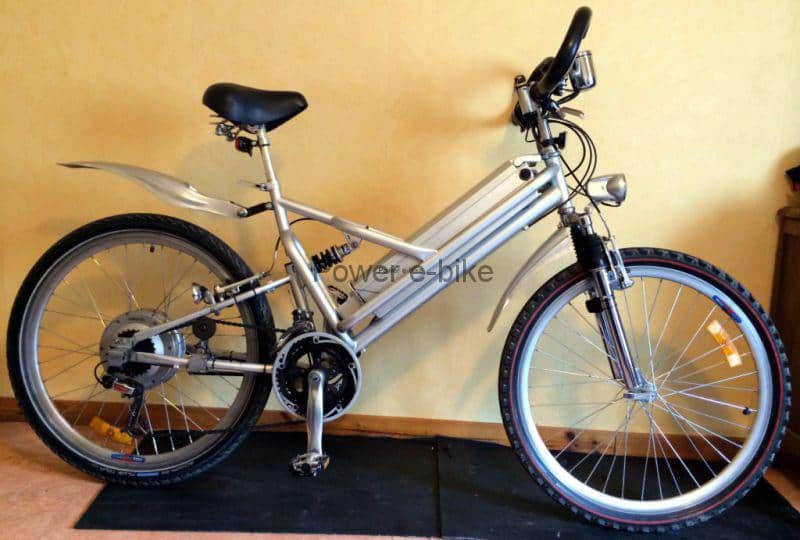 After 6 months of use and 600km, I had time to see the defects of this bike (weight of 40kg with
battery and lack of power) and think about my new project.
At first, I thought I would improve this electric bike but thanks to Sam's advice from POWER E-BIKE, I reviewed my copy.
Here is my project:
Rockrider 6.1 decathlon bike frame XL. 120.00 € second hand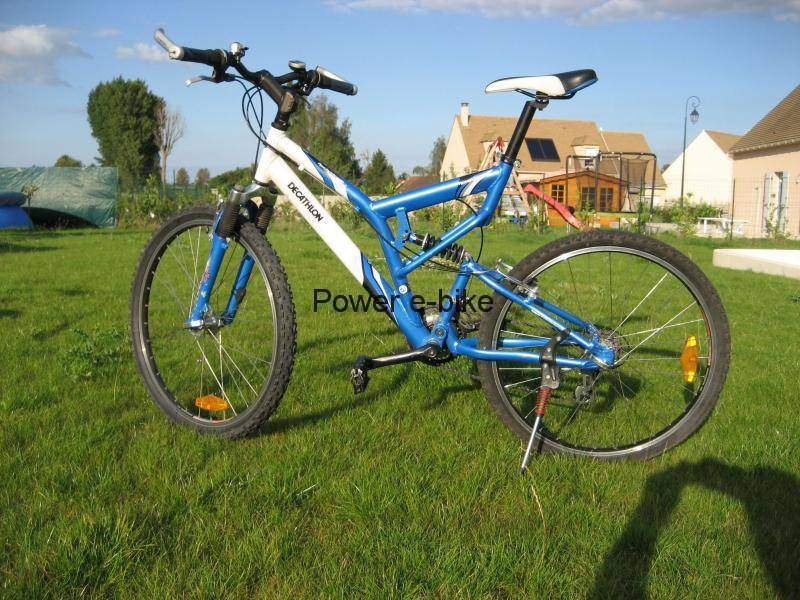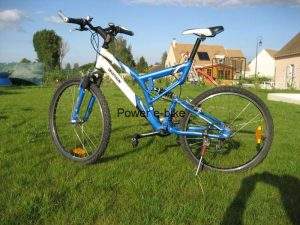 Kit POWER E-BIKE
Rear engine kit nine continent RH205c type "s" specific without battery
- Details:
- Wheel dimension: 26 inches with large caliber spokes
-: Rh205C 280/380 rpm
Freewheel screw DNP 11/32 teeth
Contrôleur Brushless HQ: 28A 36/48/60V
Accelerator: Half Multi-voltage Handle
€ 369.70 delivered very quickly and in perfect condition
Batterie 48V 20Ah lifepo4 + chargeur 2A + BMS 30A continuous, 60A peak. 8Kg429,63 € including shipping costs (no customs fees)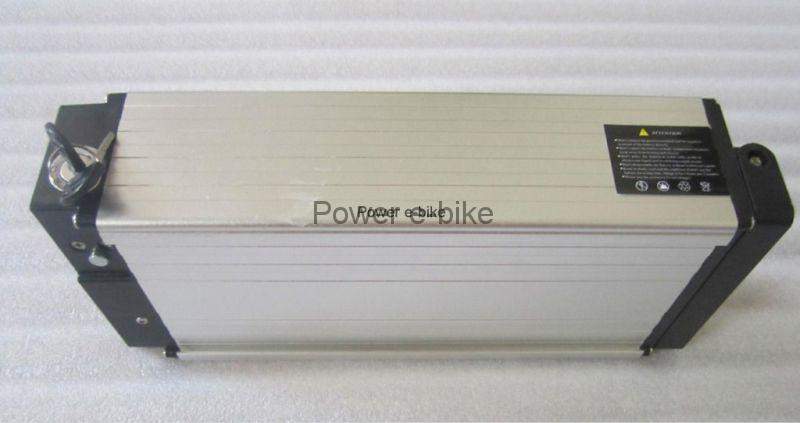 A voltage meter analyzer power meter
75€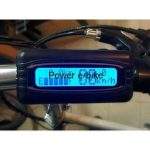 Front lighting + 48V LED rear lighting.
40€
A door seatpost on luggage to receive € batterie.29,90
Shifters Shimano Acera ST-M340 (3 x7) (2 Fingers) to replace the revolving handles.
19,90€
Two more Schwalbe tires marathon round (anti-puncture) + air chambers + rim tape.
Around 80,00 €
Some accessories (socket, sheaths, mudguards, saddlebags, adjustable stem, hanger, crankset and chainrings, more efficient brake pads, etc.)
About 200,00 €
A few hours of reflection and assembly… And here is finally the result: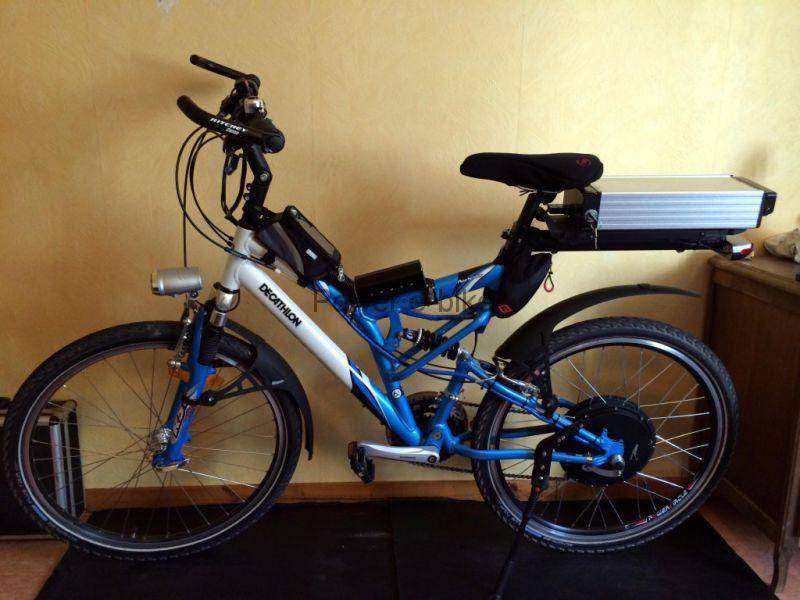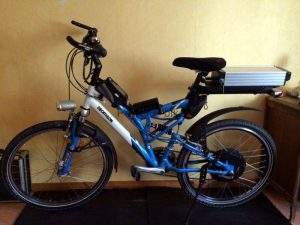 I'm pretty happy with the result but the front and rear lights that would go better on a bike
grandmother but hey these are the only ones I have found so far in 48V (so I'll do with it).
Small problem with the magnet supplied with the power meter, impossible to mount it on the big rays (oblige to order another one).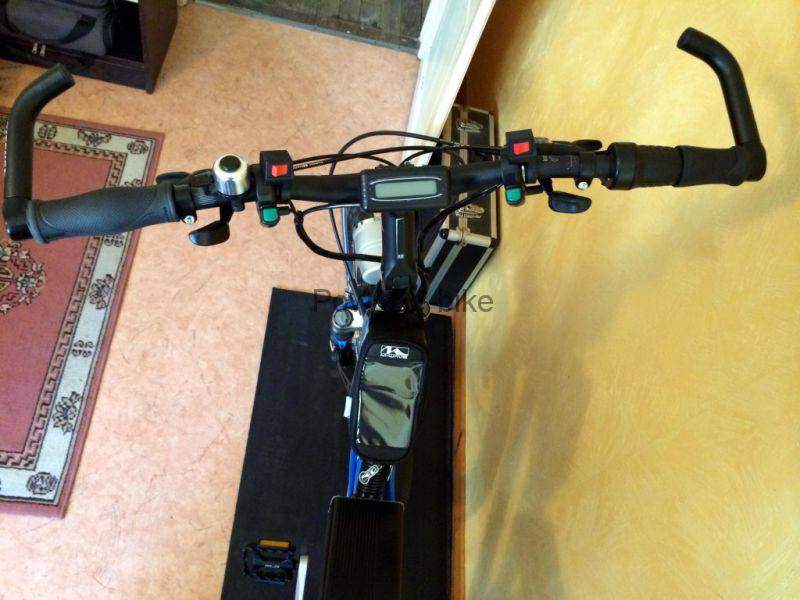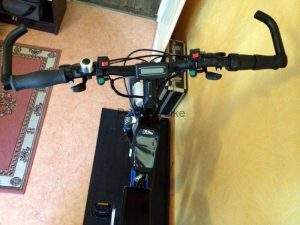 First tests conclusive (nothing to do with my old bike), it grows strong from the start
(almost equivalent to an original 50cc scooter).
The silence of the engine is impressive compared to my old one, almost no noise.
On the other hand, a little less for the resistance of the motor (like any direct-drive motor), on the
false dishes, you have to pedal where to accelerate otherwise the bike slows down.
Weight of bike with battery: 33.8kg.
My weight: 77 kg for 1.80m.
Max speed without pedaling on the flat: 40km / h.
Max speed on the flat when pedaling: 40km / h (even on the 11 teeth at the rear and the large plate at the front).
Autonomy: around 80km with alternating pedaling / all-electric on a little undulating country road.
The automatic cruise control is very practical but would have merited the possibility of putting an indicator light or emitting a small beep when it is activated (big fright at a stop just after a turn, he had had time to activate without that I realize it and when I wanted to brake at the stop, it was hot by the time that I noticed it, that I deactivate it and that I can finally brake). So brakes almost indispensable power outage.
At the end of 20km, I had to follow what is indicated on the downloadable doc on the power e-bike website, because the rear wheel started to make noise: loose spokes (a few turns of the spoke wrench and some thread brake drops).

Next step, change the brakes by hydraulic discs and the suspensions to change to air / oil (for comfort).